07/18/22
---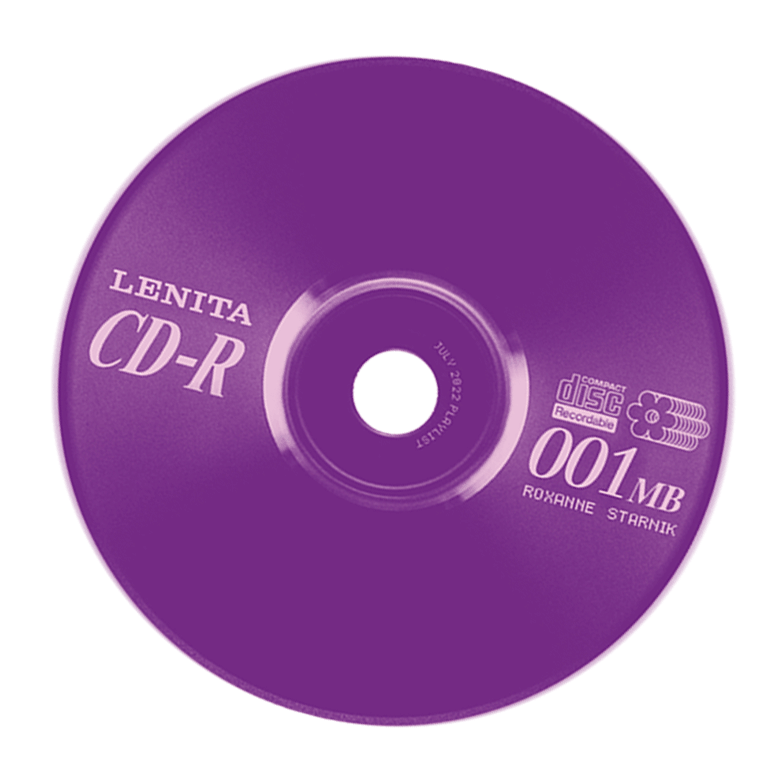 Music is a universal language that touches us in many ways, and so do people. One of those folx for us is LENITA team member Roxanne Starnik. A soul of many talents and a transplant from Ohio, she is an incredible artist singing and dancing to her own mystical beat.
Roxanne has curated a playlist to get our bodies moving through the summer and to lean on whenever you miss our pink truck roaming through the streets. Simply press play and let Roxanne's playlist take it away.
Listen to LENITA Mix CD 001 ︎︎︎
Explore Roxanne's Linktree for all of her magic ︎︎︎
---
07/14/22
---
My favorite answer when someone asks me what I do is to tell them I'm a truck driver. It's not a lie, but the truth is that LENITA is no 18 wheeler, and if I was ever handed the keys to one, the damages to my surroundings would be catastrophic.
Yes, the flower truck is small in size, but it takes courage to turn on her engine and navigate the streets of Los Angeles. Courage comes with a heavy trailer and the strength to tow it, even though latched, shakes the hands of its operator.
What a shaky year this has been so far. We find ourselves over halfway through the year still attempting normality, shaken by the poor decisions from our government, and figuring out how our feet should move in this world.
As LENITA prepares for a summer break in August, we rush against daily life thirsty for a pause, reminding ourselves that life will continue to spin in crazy ways. For a brief moment, we're choosing a song and allowing ourselves to embrace the sweat of summer and to remember dance.
Abraços, Nemuel
Listen to LENITA Mix CD 001 ︎︎︎
Curated by Roxanne Starnik ︎︎︎
---
06/01/22
---
This Pride Month, 10% of all LENITA sales and $5 from each Bloom in Pride pin sold gets donated to support the beautiful and crucial work by Casa Transformar.
Founded on November of 2017, Casa Transformar is a Brazilian LGBTQIA+ organization located on the suburbs of Fortaleza, Ceará, creating a safe haven for transgender folks.
Stop by the flower truck this month, or visit our
pride page
to shop, make a monetary donation and learn more about their work.
Casa Transformar ︎︎︎
Bloom in Pride ︎︎︎
---
05/19/22
---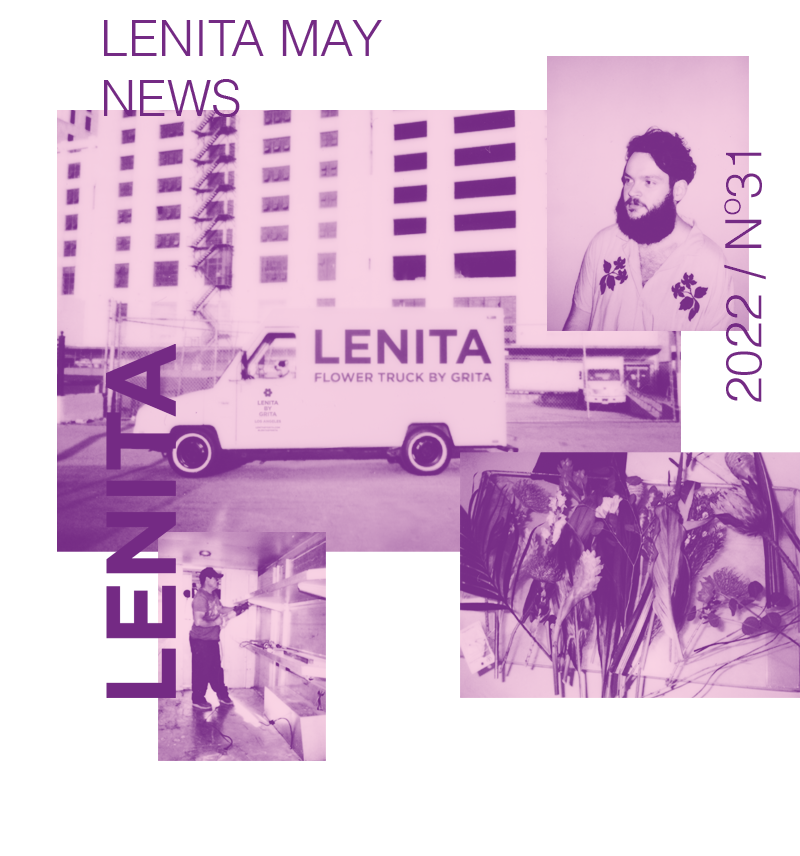 Proportional theory proposes that time is relevant to age; the longer you live, the quicker time passes. As LENITA crosses our 5th year mark, we're both proud and unsure of how to sprint the next lap, always wondering if and how we'll make it through another year.
We're not alone in this race; small businesses across the country face this question daily. The uncertainty of tomorrow, the curves of today, and the nonstop pressure to succeed warps time. Days turn into years, years turn into centuries, centuries become eternity.
As I look back to make sure we're still moving, I revisit the starting point and arrive at a gray motionless truck in a corner of a lot. A body lacking color and life, but with a bright desire to revive its engine again. I also see a vision, a dream and an idea that is now tangible + alive.
Staying alive requires a constant flow, and in this journey we find ourselves having days of excitement and times of numbness, moments of glory and defeat, but most importantly, we find memories that continue to remind us to stop and listen carefully; our heart is still beating.
Thank you and I hope to see you cheering on LENITA this sixth lap.
Love, Nemuel
---
04/20/22
---
Jemimah Barba is the kind of person who inhabits many creative layers. A transplant from Manila, Philippines, they tap into several areas of the design world, something we like to call 'doing all the things you love.'
They work with florals, write, DJ, curate zine workshops, make art and founded a super cool shop in Fresno called
1418 Fulton
with the
Laguna Collective
(a small edition Riso Publisher).
After coming across their shop on instagram, we immediately fell in love with Jemimah's work and invited them to design LENITA's annual bumper sticker. Jemimah scripted our name in such a desirable way; we can't get enough!
Grab a free sticker at our truck and follow Jemimah's Instagram to learn more about their work.
@florademanila
@1418fulton
/
website
---
---
2020 ︎ 2020 ︎ 2020 ︎ 2020 ︎ 2020︎ 2020 ︎ 2020 ︎ 2020 ︎ 2020 ︎ 2020 ︎ 2020 ︎ 2020 ︎
---
12/31/20
---
I've never been a "new year, new me" kinda gal. I wake up on January 1st and the rent is due, my worries are the same and all of my weight has carried over; its just a regular day.

But as the year where days were far from typical comes to an end, we can all confess excitement towards meeting those old repetitive days once again. Times where the basic flow of daily life were still bumpy, but moved as expected. Hugs were abundant, tasks were limitless and our faces felt free.

Even with all the current restrictions and global health at risk, the switching of the calendar brings that feeling of a fresh start. A restart where all of our baggage does come along, but even thought uncertain, the pages of 2021 are crisp and waiting to be filled.

When I flip back the pages of this exiting year, the lines are wavy and bent, but resting on them are words documenting the moments you helped create. Seconds of vulnerability, truth, anger and compassion, minutes where we felt alone but looked around and met an army. Hours where your love and support lifted not only my spirits, but became the clue to our community. As the reader of these bizarre and beautiful pages, my heart cant help but be consumed by gratitude.

Let's not stamp 2020 only as the year where our middle fingers went up, but where they also linked up to believe in a healthier tomorrow.

Thank you for the love and hello 2021!
Nemuel

Photo by Robert Stark
---
12/09/20
---
Only time will tell how the year most of us want to forget will be remembered. But for now, as one month remains, we find it hard to believe that 2020 will ever be truly forgettable. There is no hiding that this tumultuous year has already marked the pages of history; but between these troubled lines, there have been notes of fresh air.

Our still bodies got up and marched for justice. Our previously silenced thoughts roared and voted for change. Our egos got shattered by life's fragility. Our community gave small businesses their shoulders, and our fears served as a mirror, reflecting back our strength.

And in the midst of chaos, as our wheels moved along the PCH, we slid open our doors to peak at the ocean. The road underneath us moved and the breeze between these lines reminded us that even with our restricted faces, our eyes can feel the wind - it's still possible to stop to smell the flores.

Have a safe and happy holiday!
Nemuel + team LENITA

---
12/01/20
---
LENITA IS STAYING AT HOME
---
Due to the rising number of COVID-19 cases and the new stay at home restrictions in LA, we have decided to end our Santa Monica pop-up earlier than planned and cancel our flower truck pop-ups for the month of December.
While we take a break from the streets for everyone's safety, pre-orders for flowers, wreaths, and gifts will be available until December 19th for curbside pick-up at our studio or local delivery.
Please visit our
shop
for order details.
Our flower truck returns in February of next year. Until then, let's be safe together and thank you for all the love!
Shop ︎
---
11/17/20
---
It's been almost 4 years since LENITA first graced the streets of Los Angeles. From the beginning, the goal was to celebrate the city and its people.
I chatted with Lisa Boone from the
L.A. Times
about LENITA's history and journey so far, and the outcome was a sharp reflection of our mission. To be commemorated by our city's most prestigious news publication is the completion of one of many full circles yet to come.
This is a celebration of all the places we parked, all the faces we've met and all the new ones we're about to encounter — thank you for being part of our circle!
View Article ︎
---
---
2019 ︎ 2019 ︎ 2019 ︎ 2019 ︎ 2019︎ 2019 ︎ 2019 ︎ 2019 ︎ 2019 ︎ 2019 ︎ 2019 ︎ 2019 ︎
---
12/31/19
---
As a decade drives off into the horizon, I realize that LENITA has graced only 3 of the past 10 years. But the experiences, challenges and lessons learned so far have often given me the feeling that our pink flower truck has been along for the full ten years.
Still I must admit that back in 2010, a flower truck wasn't even a thought. Slowly over the years, as I maneuvered through this decade, a passion blossomed into reality and LENITA was born. A tribute to my mother, a place to merge all things design and a celebration of places and faces that make Los Angeles a unique compound.
Today, on the last day of 2019, I find myself still trying to figure it out. But what makes this journey into a new shiny decade seem bright is the sole imagery of our seed sprouting and you continuing to be our soil.
Thank you for your love and see you in 2020!
Nemuel
Nemuel's Instagram ︎

Grita website ︎
---
12/01/19
---
The most wonderful time of the year has arrived! Along with this cozy holiday feeling comes a blurry state of mind while trying to figure out how another year has flown by. With its end, we look forward to new colors, beginnings, places and faces that will stop by and smell the flores with us in 2020. It's amazing to recall the ground we covered and explored this year. From our
'Los Angeles - Home of LENITA'
video to new friends at Tartine Bakery, Zinc Cafe and Alma Backyard Farm, to collabs and pop-ups and our Bandeyra partnership, there is so much to be grateful for.
We've worked from early mornings to late nights, broken down on the highway, added some new parts and recovered from scratches along the way. All that we do and hope to still accomplish leads to our favorite part; you! Thank you to all the shops for saving us a parking spot and to all who stopped by to grab flores, meet our featured artist or simply say hello; LENITA keeps moving because of you.
Join us to wrap up the year as we revisit some of our favorite locations and roll up our sleeves with our friends at Wine Stop and Alchemy Works to create holiday wreath at our workshops happening December 7th and 8th. Come get in on the fun, or stop by to pick up a centerpiece to adorn your holiday dinner at our pop-ups from December 20th-22nd.
Have a stunning holiday season and see you at the flower truck,
Nemuel + Team LENITA
'Los Angeles, Home of LENITA' video ︎
Pop-up locations ︎
---
11/01/19
---
LENITA is taking an unexpected full month hiatus from the streets this November. We're doing some private events, special projects and a little bit of traveling that all collided with our weekend pop-ups. Until then, please check out our December pop-ups and wreath workshop information. And don't forget to mark your calendars; we park and open our window again on Saturday, December 7th.

As we prepare to give thanks this month, there are no words to express how grateful we are for all of your visits and for all the shops that allow us to park and invite you to smell the flores. Whether you're celebrating with family or friends, near or far, may friendship and love forever harvest.

Have a stunning Thanksgiving and if you see our pink truck driving by, please honk or give us a gentle wave.

With gratitude,
Nemuel + Team LENITA

---
10/10/19
---
Brazilian manual artist Danielle Yukari, now New York based (we miss you in Los Angeles!), collabs with LENITA once again by creating The 'Milkshake Pet Bowl,' named after our pup.
Danielle joined forces with LENITA previously by designing the 'Dani Vase', a ceramic vessel specially for the flower truck. These pieces are now available at the truck and online shop.
Shop ︎
---
---
2018 ︎ 2018 ︎ 2018 ︎ 2018 ︎ 2018︎ 2018 ︎ 2018 ︎ 2018 ︎ 2018 ︎ 2018 ︎ 2018 ︎ 2018 ︎
---
12/31/18
---
When LENITA first graced the streets of Los Angeles, I had no idea what was ahead and, to be honest, I had no idea what I was doing. There is no guidebook or flower truck 101. The thing I was certain of was that I wanted to create a project that celebrated all of the things that I love; art, design, flores and the individuals that keep Los Angeles blooming.
From celebrating my mother and all of the women in my life to celebrating the artists, shops and people who stopped by to smell the flores with us, LENITA's goal is to continue this celebration into the new year.
Regardless of the beat – up, down or somewhere in between, I hope to see you dancing with us.
Thank you and see you in February!
Love,
Nemuel
Nemuel's
Instagram ︎
Photo by Alex Bohs ︎
---
12/04/18
---
KSwiss celebrates the power of entrepreneurship with their new Heritage collection and LENITA joined the party.
We created two installations that merged the world of LENITA with the iconic style of KSwiss.
KSwiss
Instagram ︎
---
11/13/18
---
A few years ago, out of curiosity, Disposable Magazine started a project to see how people were living in other places around the world. They wanted to see what people were wearing, eating, and doing in their daily lives. To answer these questions, they sent a disposable camera to several individuals to document.
The first disposable camera went to an individual in Indonesia. The photos received were so wonderfully unexpected, young people wearing colorful clothing, their environment, their joy.
Pictured: Alvarenga, a municipality in the state of Minas Gerais, Brazil. The hometown Nemuel.
Article/Images ︎
Playlist ︎
---
---
2017 ︎ 2017 ︎ 2017 ︎ 2017 ︎ 2017︎ 2017 ︎ 2017 ︎ 2017 ︎ 2017 ︎ 2017 ︎ 2017 ︎ 2017 ︎
---
12/31/17
---
Thank you for an incredible year! It wasn't a easy one but your love and support has brought new experiences, new stories, new challenges and many new faces – I can't wait for all the new things still to come.
Happy New Year and please accept my humble wishes of prosperity, good health, tons of flores and much love.
See you in February!
Nemuel
Nemuel's
Instagram ︎
Photo by Iris Ray ︎
---
09/29/17
---
October is Breast Cancer Awareness Month and we're joining this fight! Stop by our truck throughout the month and pick up a postcard or print by Jamie Collelo with all proceeds to benefit The Breast Cancer Research Foundation; an amazing organization committed to achieving prevention and a cure for breast cancer.
Jamie Collelo ︎
---
08/26/17
---
LENITA took over Urban Outfitters's Space15Twenty for a weekend of art installations, workshops, music by Monique Maion and marketplace.
UO Blog ︎
Space15Twenty ︎
---
08/21/17
---
URBAN OUTFITTERS: STUDIO VISIT

---
Urban Outfitters stopped by our studio for a chat.
Visit their blog for a Q+A with founder of LENITA, Nemuel DePaula.
UO Blog ︎
Space15Twenty ︎
---